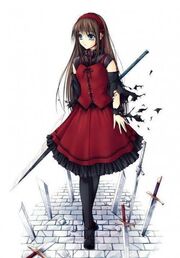 In the Forest of Menos an army of Adjucas Hollows stand in the sead white trees looking down at a small woman. She stares back up at the hollows with a smile on her face.
"My dear hollows I am going to the Human World to finish the job. I'm sorry but I have to leave my dears but remember you are my babies and I luv you all" she said in a sweet voice as she blew a kiss. The Hollows bowed down to her. "Long live Prometa a Mujer the 8th Espada!" they all yelled. "Awww you guys are so sweet" she said happily. Prometa a Mujer opened up Garganta and disspeared.
"Meanwhile in the Human world Hide stands over a makeshift grave for Ichiro she puts a flower on the mound of dirt covering his body. Suddenly the sky opens up revealing Prometa a Mujer"
"Hello there old lady, you must be the captain that the others spoke about. Hmmm you don't look so strong" said Prometa a Mujer. Hide became enraged but didn't draw her sword due to being next to Ichiro's grave. "Well anyway you don't have to worry I'm not as strong as your last opponent I'm only 8th Espada" she said modestly. Prometa a Mujer turned around and lifted her hair revealing a number 8 tatoo on her neck. "Besides I can't even release my Zanpakuto, but I wouldn't need to anyway. Judging from the reports from the Arrancar spies we sent out during your battle you barely helped in the battle at all" mocked Prometa a Mujer. "Ichiro, I will kill this woman in order to avenge you. Your death won't be in vain... I promise" said Hide in a low voice.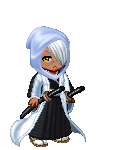 Meanwhile in Soul Society two people eneter Amatarou Omaha's office. Both Omaha's Leutinant the Swordless Swordsman and Kyashi Yagami step into her office."
"You know why you are here right Kyashi Yagami?" asked Omaha. Kyashi Yagami replied that she did not. "As of now you are the new Captain of the 3rd Division. Kyashi Yagami looked shocked but kept her cool. Omaha explained that due to the death of Ichiro a new captain would be needed immediately otherwise the Gotei 13's forces would be severely weakened. Stop sir! You can't go in there yelled the guards from outside. Suddenly Tobikuma came bursting through the doors. "How dare you! How dare you! How dare you replace my captain with this blonde devil!!!" yelled Tobikuma. Tobikuma ran foward at Kyashi Yagami but Omaha released her reiatsu crushing Tobikuma. She walked towards him and hugged him. "You will just have to accept that she is your new captain" said Omaha in a motherly voice. Tobikuma cried in Omaha's arms and the both the Swordless Swordsman and Yagami left the room.
Ad blocker interference detected!
Wikia is a free-to-use site that makes money from advertising. We have a modified experience for viewers using ad blockers

Wikia is not accessible if you've made further modifications. Remove the custom ad blocker rule(s) and the page will load as expected.