This article Dàodé Chéng Fá is under construction and will be completed over time, thank you for Understanding
Dàodé Chéng Fá (道德 懲罰, Moral Punishment; Moral Penalty) is a group of Shinigami who were put together by the Soul King. They are former members of the Royal Guard who have exceded their reputations. Their main duty is to locate, capture and or exterminate The newest group of Hollowfied Shinigami, or The Vizards
| | | |
| --- | --- | --- |
| Rank | Name | Zanpakuto |
| Grand Marshal | Unknown | Unknown |
| General | Unknown | Unknown |
| General | Unknown | Unknown |
| General | Unknown | Unknown |
| Major | Unknown | Unknown |
| Major | Unknown | Unknown |
| Major | Unknown | Unknown |
| Captain | Unknown | Unknown |
| Captain | Unknown | Unknown |
| Captain | Unknown | Unknown |
| Captain | Unknown | Unknown |
| Captain | Unknown | Unknown |
| Captain | Unknown | Unknown |
| Captain | Unknown | Unknown |
| Captain | Unknown | Unknown |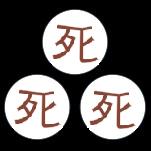 Background Information
Created shortly after the Mass Hollowfication of the Soul Society, the Soul King didn't want the public to be alarmed. He shrouded the fact that innocent civilians had been turned into what Soul Society deemed "unpure" and were killed without the aid of their former brethern. He called together the Royal Guard and had them form the Dàodé Chéng Fá. Their name was chosen as a means to punish those who were "infected", despite the fact that it was against their will. This is one of the Soul Societies largest conspiracies, being a large sham created by the Soul King.
Info and etc.
Work similar to WWII style army setup, besides the Grand Marshal they include Captains, Majors and Generals.
Their emblem is comprised of three white circles in a pyramid like shape, with each circle holding a shi kanji, meaning death.
Excluding the Grand Marshal who is often not associated with Combat, their are 14 members containing the following

Three Generals
Three Majors
Eight Captains

A Grand Mashral is hand picked by the Soul King, being one of the strongest Shinigami alive. A General must be a former member of the Ring of Two. A Major and Captain must be from any branch of the Royal Guard and be highly experienced in modern warfare.
Unlike Shinigami, their Zanpakuto were modified to resemble firearms. This is what deviats then from the rest of the Shinigami as they resemble fuedal japan.
Ad blocker interference detected!
Wikia is a free-to-use site that makes money from advertising. We have a modified experience for viewers using ad blockers

Wikia is not accessible if you've made further modifications. Remove the custom ad blocker rule(s) and the page will load as expected.