In his throne room the Espada Leader leans back in his chair remember and starts talking to himself.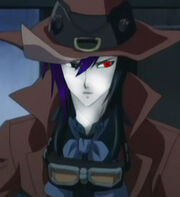 "I remeber the good old days...the days where me and my brothers had say over what went on in this rotten world." he said to himself. The leader began to go back through his memeories thinking about what his life was like before creating the new Espada. "To think I am the last of the Soberano's" he said to himself. Suddenly a tall dark man walked into the throne room. "Sir we have news about the 9th Espada Severino Corbusier, he has defeated his opponents in the Soul Society" the man said. The leader just expressed his satisfaction with a nod. "Vampiro please go greet our guest, the captain of the 6th Division" said the leader. Vampiro bowed to the leader and left the room. The leader began to chuckle to himself, "In just four days I will have Aizen's power and soon I will be the one who rules the heavens".
We shift back with the battle between Keiji and Blanca NuVera, Blanca is on the edge of death and is out of breathe.
"No wonder you are 10th Espada you can't hold your own in battle can you?" taunted Keiji. Insteading of replying with words Blanca regained his breath and launch several laser blast at Keiji but Keiji easily dodged them using Shunpo. Suddenly both stoped fighting, Balnca stared in awe at the arival of Vampiro. "Vampiro what are you doing here?" he asked is a hesitant voice. Vampiro didn't acknowledge the Espada and turned to face Keiji. "Congrats you defeated the runt of the litter captain" he said giving him a less than sincere hand clap. Blanca charged in at Vampiro and launched a laser at him but he swatted it away like it was a mere fly. "You have nerve trying to attack me" he said. Vampiro. Vampiro made an awkward hand gesture and generated a wierd cross shaped crimsom attack that sliced Blanca in fours killing him instantly. "Sorry about that Captain" he said. Keiji looked down at the mangled corpse of the former Espada laying in the sand. "You don't seem to care that you killed him" said Keiji. Vampiro chuckled at Keiji's remark, "I never look down only up, those beneath you are of no consequence". Keiji simply nodded.
Ad blocker interference detected!
Wikia is a free-to-use site that makes money from advertising. We have a modified experience for viewers using ad blockers

Wikia is not accessible if you've made further modifications. Remove the custom ad blocker rule(s) and the page will load as expected.