Jaki Houshasei
Age
Unknown (Quite Young)
Birthdate
October 10th
Height
5ft
Weight
Unknown
Gender
Female
Species
Shinigami
Affiliation
Soul Society
Team
12th Division
Occupation
Researcher at the Research and Development Institute
Family
Appearance
Jaki has grey skin, grey eyes, long green hair and some sort of paint in her face. She wears the standard Shinigami uniform under a white coat, she wears goggles and carries her Zanpakuto on her back waist.
Personality
She likes to study and learn new things all the time. Most times when there's a gathering, she takes notes of what's been said. In battle, she writes down her opponents movements, attacks and measures his/her skills in levels. She often takes off time to have discussions with her Zanpakuto.
Synopsis
Backround
Powers and Abilities
Swordsmanship: Her fighting with her zanpakuto is weak, but her relation with it, is greater than most unseated officers.
Great Knowledge: As she is a researcher, she knows a lot of things that happends and is created in the Research and Development Institute. She has great knowledge in reiatsu, Hollow, Gigais and a lot of things in the Living World.
Zanpakuto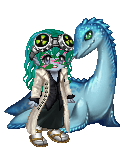 Jaki's zanpakuto is named Monsutamentaru(Mental Monster). In sealed state, it takes the form of a regular katana. It's release command is "Reveale the monster you are!"
Shikai: Monsutamentaru takes a physical form, whioch of a blue sea creature.
Shikai Special Abilities: Monsutamentaru can fly with great speed, shoot a cero-like reiatsu ball out of it's mouth which does not do much destruction and if commanded and consentrates a lot, it can read someone's mind and transfere it to Jaki's mind. It cannot be done in battle and Monsutamentaru has a limit of how many tims she can use it before changing back to sealed state.
Ad blocker interference detected!
Wikia is a free-to-use site that makes money from advertising. We have a modified experience for viewers using ad blockers

Wikia is not accessible if you've made further modifications. Remove the custom ad blocker rule(s) and the page will load as expected.