Home
Talk

17
7,657pages on
this wiki

Welcome to the Bleach Fan Fiction Wiki!
The wiki, of fan invention, that anyone can edit!
Simply click the arrows immediately to the right of this message to navigate through this directory.
The Bleach Fan Fiction Wiki, founded in 2009 by Blackemo1, Cyberweasel89, and Ten Tailed Fox, is a wiki of fan-invention based in the Bleach universe. Here, we allow users to create their own fan fiction stories, characters, Zanpakutō, etc., as well as allowing them to collaborate together in what is known as a roleplay; where fan fiction writers can write stories together, pit characters against each other in fights, and even do comedy skits. Users are also encouraged to get to know each other, make friends, and communicate with each other via the Message Walls provided by Wikia to promote a friendly writing environment, as well as allowing them to collect feedback for their works. Our goal is constant improvement in quality to become the best Bleach fansite on the internet!
Bleach Fan Fiction Wiki Policies
‹
›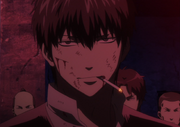 Raian Sonyōji Getsueikirite no Tarō (月影切り太郎 尊幼児 手梁, Getsueikirite no Tarō Sonyōji Raian ) was the first captain of the Tenth Division, later being promoted to the Royal Guard. He was exiled from Soul Society following the Akujin Crisis, but regained his status as a captain following the incident with Mūkade. Due to his ruthlessness in earlier conflicts, he was given the name of "Hitokiri Battōsai" (人斬り抜刀斎, Battōsai the Man-Slayer ). He is the main protagonist of Bleach: Second Act. By Part II, he had regained his position within the Royal Guard — though he was also the captain of the 10th Division, holding dual positions. He was the fourth Kenpachi, due to his killing of the third Kenpachi, and one of the few not associated with the Eleventh Division. His title, in the Royal Guard, is the "King of Swords" (剣王, Kenō ).
Main article: Raian Getsueikirite
"A man's life is like traveling down a long road with a load on his shoulders. The first time I heard that, I thought, "what a lame thing to say", but what do you know... it had a point to it. It's not really a burden. Everyone's got both hands full of something that matters. You just don't realize it when you're carrying it. It's only after it slips out of your hands that you realize how heavy it was in the first place. So many times, I thought I'd never carry a load like that ever again. And yet, before I realized it... I was carrying it again. I'd feel so much better if I just got rid of it. But I just can't bring myself to do it. Without those guys, just walking around isn't fun anymore."
—Seireitou speaking about his close partner and both disciples, among many others.
This month's Featured User is User:Blankslate whom is one of the senior members of Bleach Fan Fiction Wiki. He is the lieutenant of the Second Division. He is ranked fourth on Bleach Fan Fiction Wiki's list of most active users.

Do you believe Renji and Rukia's powers have increased to Captain level?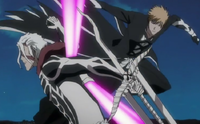 Battle in the Spotlight: TBA
---
Feeling confident? Post a character roleplay challenge on the Forum!
Create blog post
Latest Posts
Been awhile since I've done a Blog. To those who are usual readers of my Reviews, I apologize, but I will get back to my Reviews this week. Just wanted a break from all the hecticness of creating the…

Read more >
See more >