Home
Talk

18
7,316pages on
this wiki

Welcome to the Bleach Fan Fiction Wiki!
The wiki, of fan invention, that anyone can edit!
Simply click the arrows immediately to the right of this message to navigate through this directory.
The Bleach Fan Fiction Wiki, founded in 2009 by Blackemo1, Cyberweasel89, and Ten Tailed Fox, is a wiki of fan-invention based in the Bleach universe. Here, we allow users to create their own fan fiction stories, characters, Zanpakutō, etc., as well as allowing them to collaborate together in what is known as a roleplay; where fan fiction writers can write stories together, pit characters against each other in fights, and even do comedy skits. Users are also encouraged to get to know each other, make friends, and communicate with each other via the Message Walls provided by Wikia to promote a friendly writing environment, as well as allowing them to collect feedback for their works. Our goal is constant improvement in quality to become the best Bleach fansite on the internet!
Bleach Fan Fiction Wiki Policies
‹
›
Hinata Kusuhana (玖珠花ヒナタ, Kusuhana Hinata) is a female Shinigami whom bears a distant lineage to the Sōzōshin. After an incident that had occurred during a mission to the Human World, in which she lost all of her powers and prompted her to reside there, she had attended Karakura High School, where she met Minato Kuramoto. Hinata is a disciple of Kawahiru Dojang, under Seireitou Kawahiru and Saori Sumeragi, training together with Minato Kuramoto. She is the current Third Seat of the Ninth Division in the Gotei 13, under Captain Suzaku Kawahiru, as well as the Secretary of the Abakushin'ō; being assigned to supervise and document the cases handled by Team Kuramoto.
Main article: Hinata Kusuhana
""Loneliness is not a sin, no matter what the circumstances, I don't need help from others. Other people only get in the way. To help is mere pity. It is jealousy towards the strong. An insult to a noble spirit. To be alone is to be the only one. The privilege of a superior soul.""
Bleach is one of the most popular anime/manga series in the world, having sold more than 72 million copies in Japan alone. 
In 2006, it was ranked the fourth most popular anime in Japan, and from 2006 to 2008, it was ranked within the top 10 in the United States.
Bleach received the Shogakukan Manga Award for the shōnen demographic in 2005.
Bleach was first conceived from a desire on Tite Kubo's part to draw Shinigami in a kimono, which formed the basis for the design of the Shinigami in the series and the conception of Rukia Kuchiki.

Recent Manga Chapter

Chapter 568-"Hear. Fear. Here 2"

As Rukia slowly increases the temperature of her own body, she notices a small cut on her finger and wonders if she remained at absolute zero for more than 4 seconds. Wondering if he is feeling fear, Äs proclaims he only fears losing his body and being punished by Yhwach. As his mask disintegrates, Äs proclaims this battle is not scary at all before activating his Quincy: Vollständig, gaining a halo and tears of blood. When Rukia attempts to freeze him, Äs moves behind her as Rukia realizes she cannot move. Revealing his fear ability is now based on sight rather than on contact with his thorns, Äs explains his Tatar Foras ability and surrounds Rukia with innumerable copies of his eyes. As Äs tells Rukia to finally feel fear, Byakuya cuts through the eyes behind Äs.

This month's Featured User is User:Saris Khan whom is otherwise known as Lord Galvatron. He is one of the three contributors to the Bleach: Equilibrium series, which includes the popular "Balance of Souls" storyline.

Do you believe Byakuya can defeat Äs Nödt?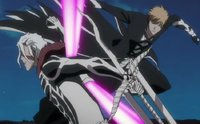 Battle in the Spotlight: TBA
---
Feeling confident? Post a character roleplay challenge on the Forum!
Create blog post
Latest Posts
This is the final blog I will be making in regards to the RPCQ Exam.

As of right now, it is 6:20 PM EST and the policy goes into effect at 12:00 AM ES…

Read more >
See more >