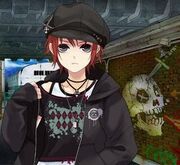 Information
Yo, peoples. My name is Nanami Kurosaki. I am currently sixteen years of age and go to Karakura Town High. My mother Rukia is a school teacher for the Middle School and my father Ichigo is an Doctor at the Hospital. I am the combined personalities of Ichigo and Rukia combined. Don't get me wrong, but you'll have to see my zanpakuto in action.
Name=Nanami Kurosaki Age=Sixteen Looks=Look in Picture at top Gender=Female Occupation=High School Student; Shinigami
Family
Fathers Side of the Family.
Grandfather=Isshin Kurosaki Grandmother=Masaki Kurosaki Aunt=Yuzu Kurosaki Uncle=Jinta Hanakari Aunt=Karin Kurosaki Uncle=Toshiro Hitsugaya

Mothers Side of the Family
Grandfather=Ginrei Kuchiki Grandmother=Unknown Aunt=Hisana Kuchiki Uncle=Byakuya Kuchiki
Life
I have a bunch of friends I hang out with on a regular basis. If it is school, we're okay with that. If it's hollows, we're an unstoppable team. If it's just hanging out, we're okay with that.
Friends:
First:
Ishikazu Inoue
Second:
Jigoku Sado
Third:
Kai Ishida
Fourth:
Kasumi Takayanagi
Fifth:
Manami Natsume
Sixth:
Kuromi Nagi
Seventh:
Chinatsu Makihara
Eighth:
Sakurai Kurei
Ninth:
Shinju Sugano.
Ad blocker interference detected!
Wikia is a free-to-use site that makes money from advertising. We have a modified experience for viewers using ad blockers

Wikia is not accessible if you've made further modifications. Remove the custom ad blocker rule(s) and the page will load as expected.